Archive for December, 2008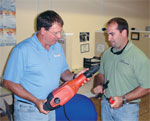 Ray Brown, the Product Installation Manager from Foundation Supportworks, recently traveled to Quality 1st Basement Systems in Perth Amboy, NJ to assist them on a helical pier foundation repair in New Jersey. General Manager, Bob Cherry, sent two of his best foremen out with Ray to work on two different projects. The guys had a great week installing both retrofit and new construction helical piers for the New Jersey homeowner.
Quality 1st owner, Tom Roman, called in to the Foundation Supportworks' office the next week to say that he was thrilled with the new piering and the support of the company.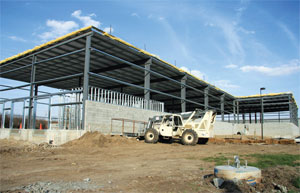 It seems that each day brings new progress and development on the building of the new Foundation Supportworks Warehouse and Distribution Center for our complete line of foundation repair products. Recent developments include the floor being poured and the building becoming enclosed with outside sheeting. Final grading for the driveway is expected to be completed and ready for pavement by mid-November. The electricians and plumbers have been hard at work getting wiring and plumbing set up on the building's interior.
The official opening of the new building has been slightly delayed due to some late October rainfall in Omaha; however, we're still expecting to be moved-in and operating out of the new facility by early 2009.